The Final Rendition of the Dodge Charger
If you're searching for pure power, timeless design, and unmatched performance, the 2023 Dodge Charger is the answer. And there's no better place to explore this automotive masterpiece than Sonora CDJR, your trusted dealership in the heart of Sonora, California. In this blog post, we're delving into the thrilling details of the 2023 Dodge Charger, from its impressive performance to its iconic design. Let's get ready to turn some heads and hit the road!
An American Icon
This American muscle car legend isn't just another sedan. The 2023 Dodge Charger is a testament to pure, unadulterated power. With its menacing grille and iconic side styling, it has been grabbing attention on the road for years. But what lies beneath this striking exterior is what truly sets it apart.
Performance that Redefines the Road
What makes the Charger a standout in its class? It's all about power, and the 2023 Dodge Charger doesn't disappoint. This beast is available with a range of impressive powertrains.
Supercharged 6.2L HEMI® High-Output SRT V8 Engine:
T

orque: 707 lb-ft

807 Horsepower

0-60 mph: 3.6 seconds
392 HEMI® V8 Engine:
   Horsepower: 485 hp

   Torque: 475 lb-ft

   0-60 mph: Under 4.5 seconds
345 HEMI® V8 Engine:
   Horsepower: 370 hp

   Torque: 395 lb-ft

   Up to 25 highway mpg
3.6L Pentastar® V6 Engine:
   Horsepower: 292 hp

   Torque: 264 lb-ft

   Up to 30 highway mpg
These engines are not just numbers on a page; they're the heart and soul of the Charger, delivering the kind of adrenaline-pumping performance that will make your heart race. 
Unleash the Widebody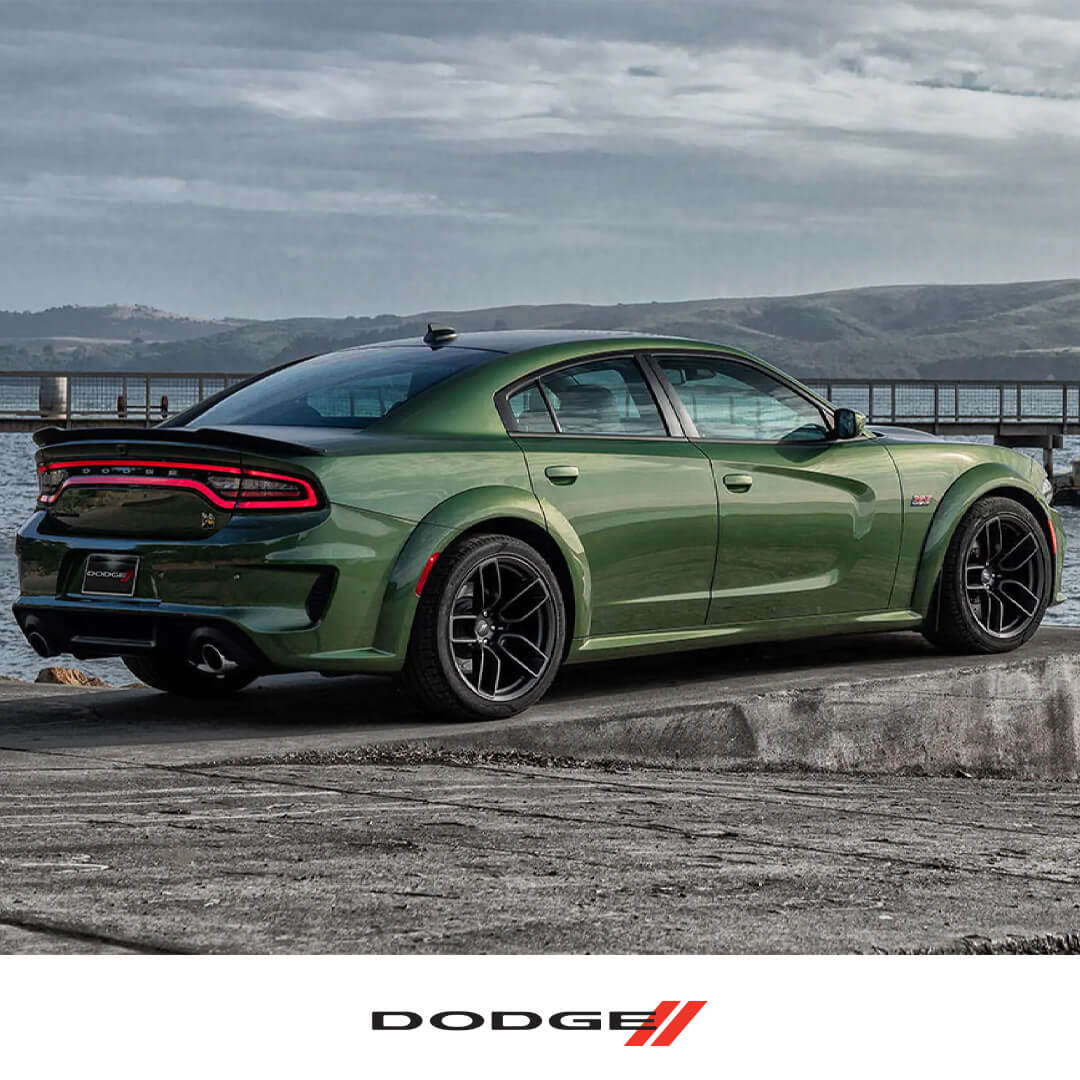 For those who crave maximum grip and power, the Charger Widebody is an excellent choice. Equipped with 20x11-inch Pirelli® tires, this model ensures you stay glued to the road whether you're racing on a track or tackling sharp turns on the street. The Widebody also comes with custom fascias, grille, and fender flares that not only enhance the Charger's aesthetic appeal but also certify its strength on the asphalt.
The 2023 Dodge Charger offers a diverse range of trim options to cater to various driving preferences and performance needs. From the base SXT with its impressive 3.6L V6 engine, producing 292 horsepower and excellent fuel efficiency, to the power-packed GT with 300 horsepower, and all the way to the high-performance Scat Pack featuring a formidable 6.4L V8 engine with 485 horsepower, there's a Charger for every type of driver. Whether you're a daily commuter or a speed enthusiast, the 2023 Dodge Charger has a trim tailored just for you.
Brakes that Match the Power
A car as powerful as the 2023 Dodge Charger needs brakes that are just as impressive. The Charger doesn't disappoint, with standard six-piston Brembo brakes and an Adaptive Damping Suspension that ensures you stay in control even when you push the limits.
Packages to Elevate Your Ride
Enhance your Charger with one of the dynamically designed appearance packages. These packages include:
HEMI® Orange Edition:
   - Add some visual pop to your Charger with this captivating package.
King Daytona Special Edition:
   - Pay homage to the 1969 Charger King Daytona with this special edition. It features a bump in horsepower to 807, Go Mango exterior paint, and a unique interior and graphics package.
Super Bee Special Edition:
   - The Super Bee is back, bigger and badder than ever. Available in both standard and widebody versions with performance upgrades, including drag radials and drag mode.
Swinger Special Edition:
   - Celebrating the 70s, this retro-themed appearance package on the Charger Scat Pack Widebody is a nod to the original Dodge high-performance Swinger models.
A Nod to the HEMI V8 Engine
For the final production year of the Dodge Charger, R/T models will come standard with a chrome '345' badge to replace the original 'HEMI' fender badges. '345' signifies the cubic inch designator on the 5.7L HEMI® V8 engine. This is a nod to the heritage of this legendary V8 engine.
Last Call Underhood Plaques and Iconic Colors
The Charger is going out with a bang, and you can commemorate its legacy with special 'Last Call' plaques. Additionally, some classic colors are making a return in 2023, including B5 Blue, Sublime, Plum Crazy, and Destroyer Gray.
The 2023 Dodge Charger is more than just a car; it's a statement of power and style. With its range of powertrains, stunning design, and impressive packages, it's the perfect choice for those who crave the thrill of the open road. Visit Sonora CDJR today to explore this automotive masterpiece up close and take it for a test drive. Get ready to make an impact on the streets of Sonora, California, and beyond with the 2023 Dodge Charger!